C. elegans Development Topic Meeting / Asia-Pacific C. elegans Meeting has successfully ended on July 19, 2014.
We greatly appreciate for your support and cooperation.
Meeting Survey
To plan future Topic Meetings and Regional Meetings, we appreciate your feed back and comments.
Link to survey is here.
Photo Album
Photo album of the 2014 C. elegans Development Meeting/Asia-Pacific Meeting is here!
Meeting Logo, Novelty Items
Meeting logos, T-shirts, magnets etc. were designed by MEME Creative Studio.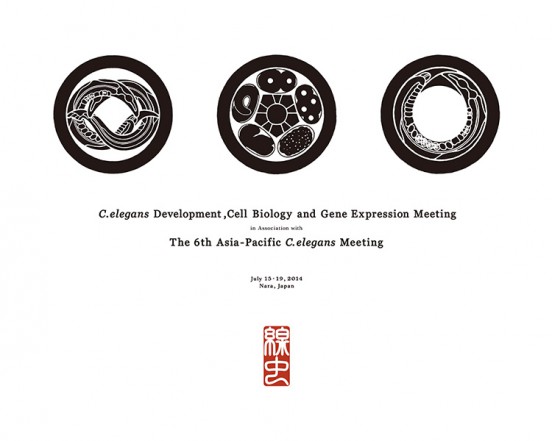 Welcome!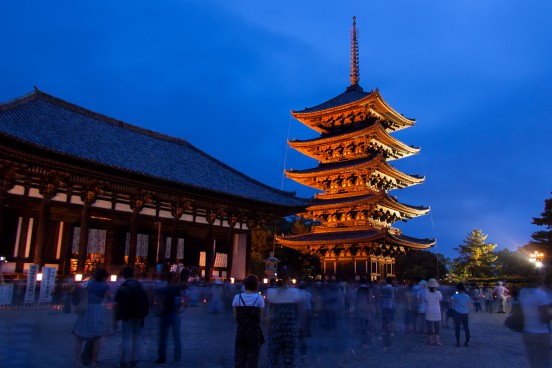 We invite you to attend the C. elegans Development, Cell Biology, and Gene Expression Topic Meeting in association with the 6th Asia-Pacific C. elegans Meeting,  which will be held in Nara, Japan, July 15-19, 2014.
Dates
Tuesday, July 15, 2014 – Saturday, July 19, 2014
Venue
Nara Prefectural New Public Hall
101 Kasugano-cho, Nara, 630-8212  JAPAN
Topics
Development, Cell Biology, and Gene Expression Meeting Topics

Development

Cell Fate Patterning
Germline Development, Meiosis, Sex Determination
Neuronal Development
Cell Death
Neurodegeneration and Regeneration
Developmental Timing

Cell Biology

Cell Polarity and Intracellular Trafficking
Morphogenesis, Migration, Cytoskeleton
Cell Division and Chromosome Dynamics
Organelle Biogenesis and Dynamics
Neuronal Cell Biology

Gene Regulation

Gene Expression
RNAi, small RNAs
Genomics
Epigenetics

Asia-Pacific Meeting Topics

Neurobiology

Synaptic Function and Circuits
Behavior

Physiology

Aging and Stress
Metabolism
Pathogenesis

Common Topics

Methods and Technology

Genome Engineering
Imaging
Omics and Systems Biology
Microfluidics
Databases and Programs
Keynote Speakers
Special Keynote: Masatoshi Takeichi  

(RIKEN CDB, Japan) 

Zhirong Bao  

(Sloan-Kettering Institute, USA)

Bruce Bowerman

 (Univ. of Oregon, USA)

Abby Dernburg  

(Univ. of California, Berkeley, USA)

Yuji Kohara

 (NIG, Japan)

Sandhya Koushika

 (TIFR, India)

Michel Labouesse

 (IGBMC, France)

Hitoshi Sawa

 (NIG, Japan)

Xiaochen Wang  

(NIBS, China)
Meeting Organizers
Asako Sugimoto  

(Tohoku Univ., Japan)

Andrew Chisholm  

(Univ. of California-San Diego, USA)

Ahna Skop

 (Univ. of Wisconsin-Madison, USA)
International Organizing Committee
Zhirong Bao 

(Sloan-Kettering Institute, USA)

Chang-She Chen  

(National Cheng-Kung Univ., Taiwan)

King Chow

(The Hong Kong Univ. of Science and Technology, Hong Kong)

Alex Hajnal  

(Univ. of Zurich, Switzerland)

Takeshi Ishihara  

(Kyushu Univ. Japan)

Seung-Jae Lee

  (POSTECH, South Korea)

Massimo Hilliard  

(The Univ. of Queensland, Australia)

Jane E. Hubbard

(New York Univ. USA)

Jeremy Nance  

(New York Univ., USA)

Kiyoji Nishiwaki  

(Kwansei Gakuin Univ., Japan)

Mi Hye Song  

(Oakland Univ., USA)

Anne Spang

  (Biozentrum, Switzerland)

Sander van den Heuvel 

(Utrecht Univ., The Netherlands)

Ronen Zaidel-Bar 

(National Unv. of Singapore, Singapore)

Hong Zhang 

(CAS, China)
Local Committee
Ken Sato  

(Gunma Unv., Japan)

Kotaro Kimura 

(Osaka Univ., Japan)

Shuichi Onami 

(RIKEN QBiC, Japan)

Masahiro Ito 

(Ritsumeikan Univ. Japan)
Poster PDF
Click to enlarge image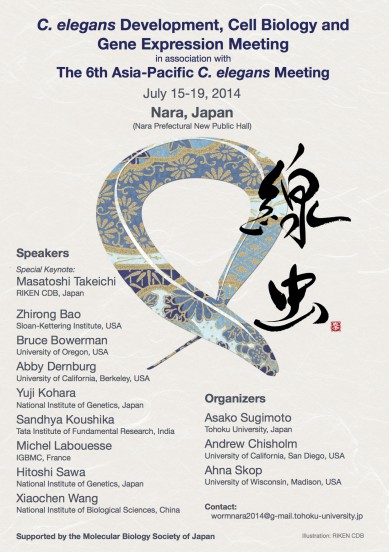 Contact
wormnara2014@g-mail.tohoku-university.jp